Services
We Offer Different Services to help you
NUMBERS SPEAK
Dumpster Rental Services Across Dallas
We at Fusion Waste & Recycling in Dallas offer a wide variety of roll-off dumpster options and services that will satisfy your collection needs while minimizing impacts on local landfills through our progressive environmental solutions. More than that, our collection services ensure your dumpsters are emptied on schedule and constantly refreshed to keep your projects moving forward.
We are an independently owned MBE company that is customer and community-focused. If you're in Dallas and are seeking waste and recycling solutions for medium or large-scale projects, we're the local choice for you.
---
Combined years of experience
---
Pounds of waste and recycling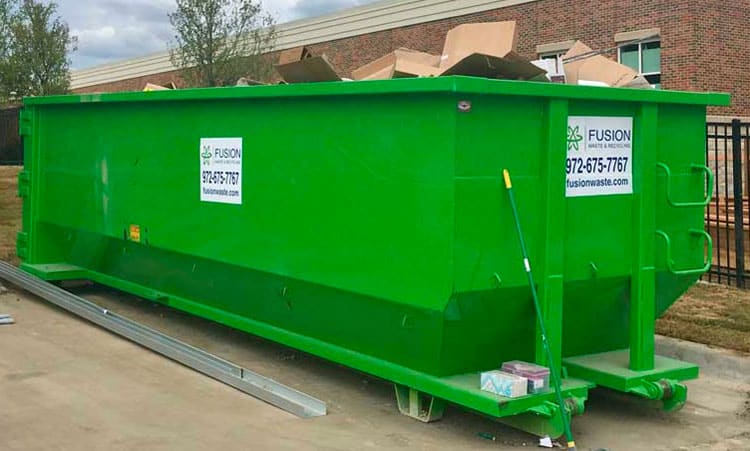 Dumpster Services
What is a Roll-Off Dumpster?
Roll-off dumpsters, also known as open-top containers, are metal waste receptacles used for residential and commercial use.
What does that exactly mean? Well, it basically means roll-off dumpsters can pretty much serve any mid to large-scale waste and recycling purpose you have. They are designed to be emptied into garbage trucks where waste is then taken to the landfill or recycling facilities. The types of dumpsters you see at small businesses or apartments are far different than what you usually see on construction sites.
The dumpster really is a catch-all word for a variety of receptacles for disposing of waste and recyclables. In this case, we're talking about a roll-off dumpster. Roll-off dumpsters are the majority of dumpsters you'll see on new construction sites, in driveways where a house may be having a roof replaced, or in an empty lot that's being cleared of landscape, to name a few.
The main point is, they're usually employed for specific jobs where a bulk amount of waste will be handled over a fixed period of time. Their larger scale makes them ideal for construction, demolition, and large clean-up projects. Roll-off dumpsters are not the front-load dumpsters you typically see behind restaurants or at gas stations.
Available Sizes
Roll-Off Dumpster Sizes and Uses
The sizes and dimensions of roll-off dumpsters vary for our service area in Dallas. If you're looking to rent a dumpster to fulfill your waste removal needs, below is a list of various dumpster sizes we offer. Once you're ready, Fusion Waste & Recycling will provide a prompt, affordable dumpster service.
20-yard and 30-yard dumpsters can accommodate both smaller and slightly larger scale dumpster jobs equally well and are very easy to load. 40-yard dumpsters are typically the largest dumpster you'll need for any large-scale construction or demolition debris removal. We also provide dumpster sizes – 10 yard, 8-yard, 6 yard, 4-yard, 3 yard, and 2 yards.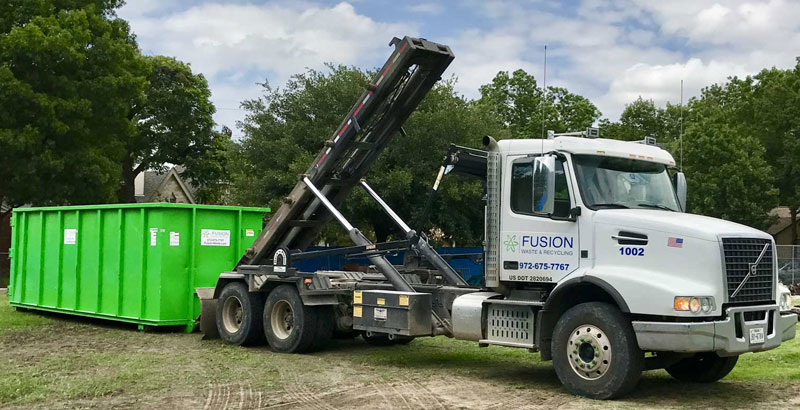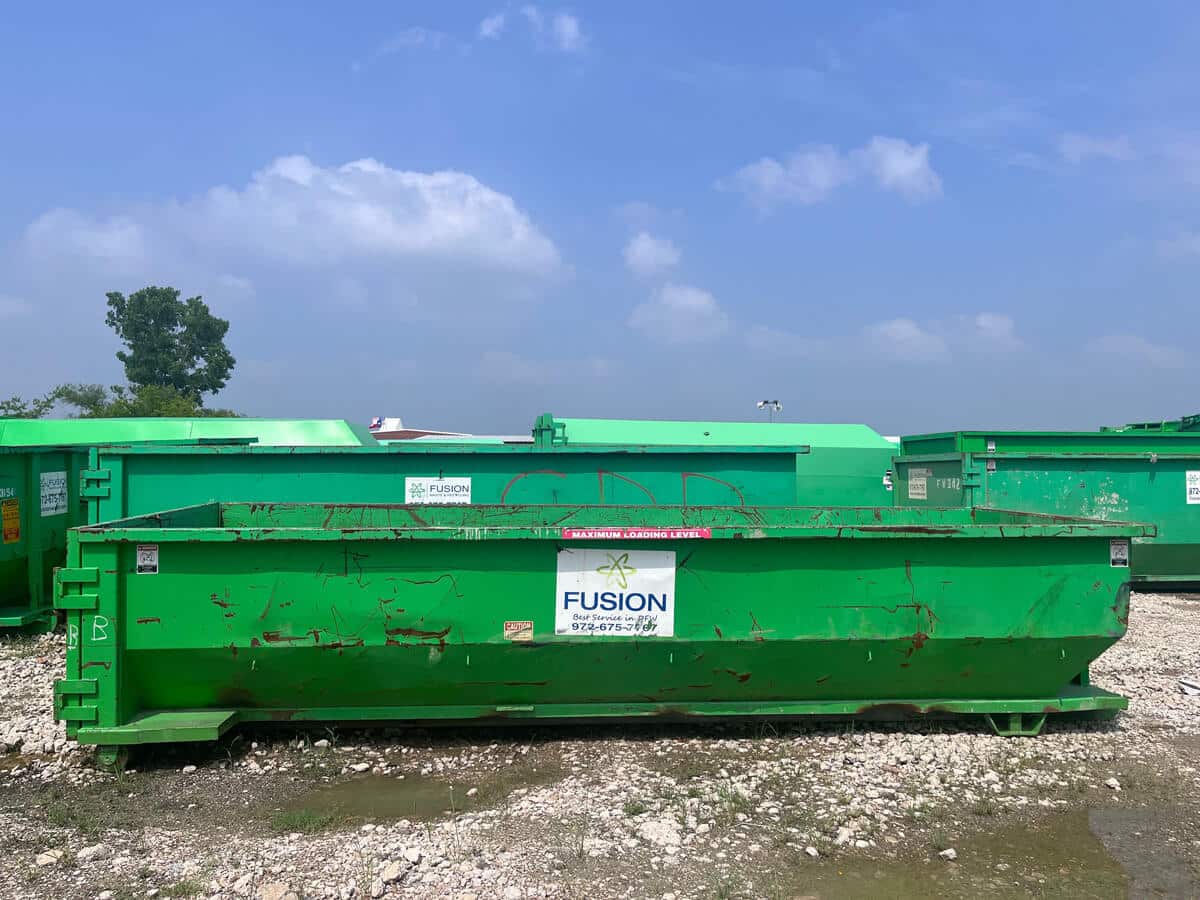 Open Top
20-Yard Roll-Off Dumpster
Typical Environment: Residential, Small Business, and Commercial
Size Class: Small to medium
Average Dimensions: 3.5′ high x 8′ wide x 22′ long
Example Disposal Contents: 20-yard roll-off dumpsters are suited for smaller and larger projects alike, such as roof replacement debris or waste generated by carpet removal.
Open Top
30-Yard Roll-Off Dumpster
Typical Environment: Small Business and Commercial
Size Class: Medium
Average Dimensions: 5′ high x 8′ wide x 22′ long
Example Disposal Contents: 30-yard roll-off dumpsters are perfect for medium-sized commercial jobs such as on construction sites or industrial and commercial building clean-outs.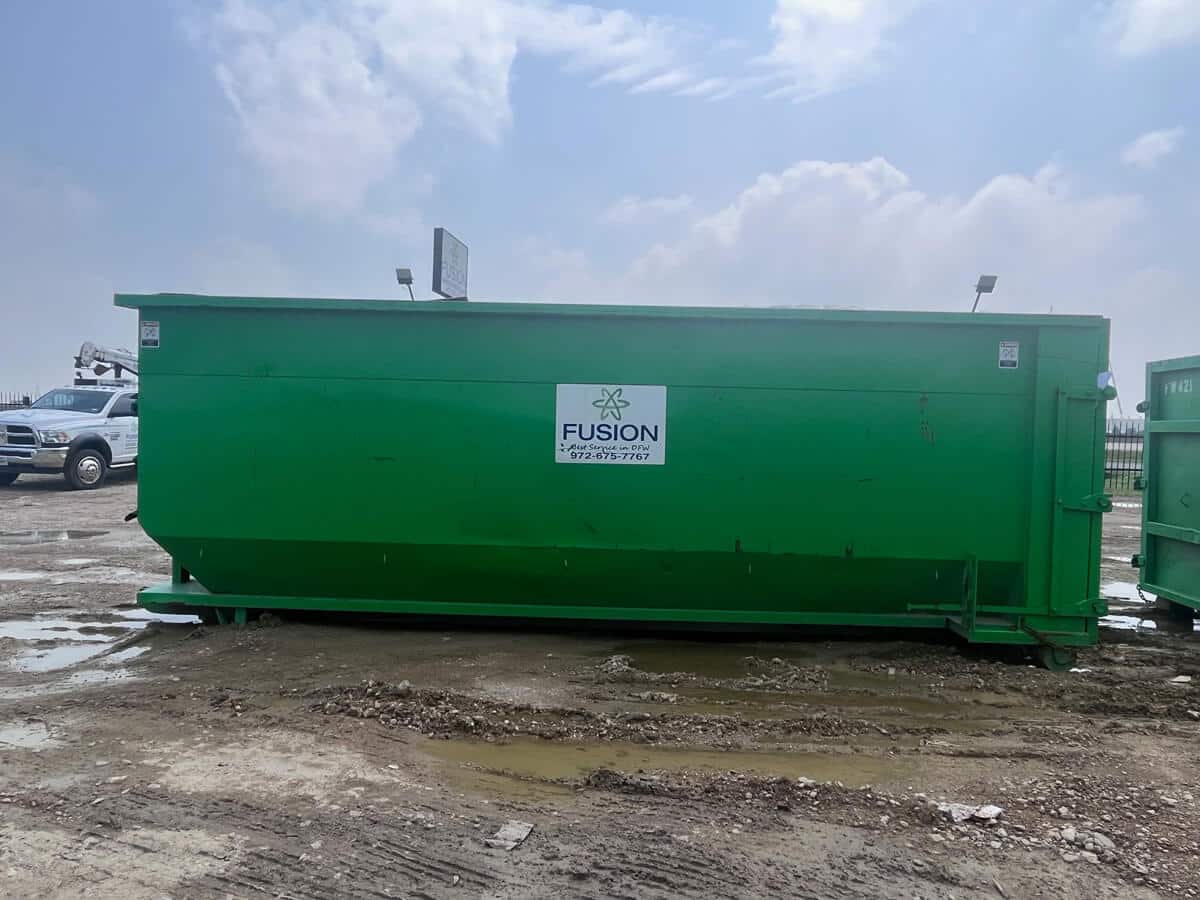 Open Top
40-Yard Roll-Off Dumpster
Typical Environment: Small Business and Commercial
Size Class: Large
Average Dimensions: 7′ high x 7′ wide x 23′ long
Example Disposal Contents: 40-yard roll-off dumpsters are ideal for major home reconstruction but usually are utilized in commercial construction or demolition cleanup.
Roll-Off Uses
Why Use a Roll-Off Dumpster?
Multi-family housing, business centers, corporate buildings, education centers, and industrial sites often employ the services of a roll off dumpster when the project exceeds their normal waste disposal needs.
If you know you're going to have a lot of waste that will need to be disposed of or recycled over a specific amount of time, a roll-off dumpster is your best choice. It allows you the freedom and space to fill it up without requiring multiple off-load trips.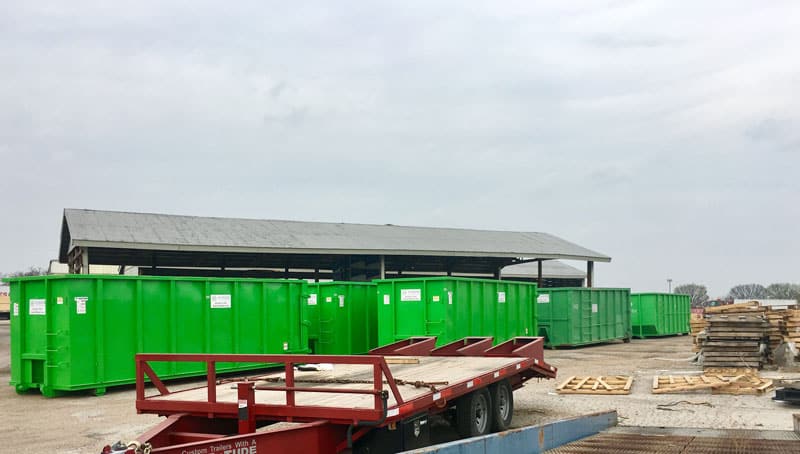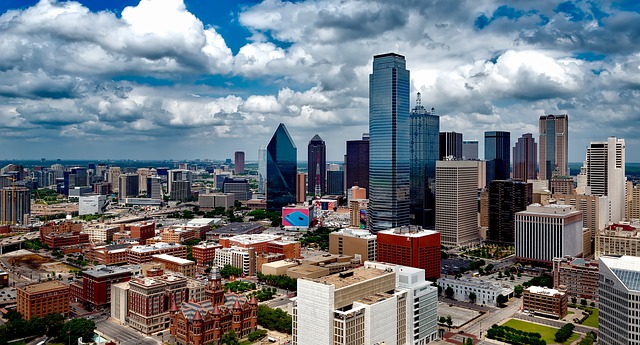 Dedication
Professional Waste Management Company
The professionals at Fusion Waste and Recycling have over 35 years of solid waste and recycling experience. We believe that every business in Dallas should have the opportunity to dispose of all of its waste materials utilizing the professional products and solutions we offer.
Not every business or multi-family property requires something bigger than a front-load dumpster to handle their refuse and recycling needs. However, when something bigger is required, then a roll-off dumpster is often the best and most efficient solution.
For further information on which roll-off dumpster size is best for you and the timeline you may need it available for, please feel free to contact us. We firmly believe we are your waste and recycling solution.
Frequently Asked Questions
The cost of renting a roll-off dumpster in Dallas can vary depending on several factors, such as the size of the dumpster, the rental period, and the location. On average, renting a 20-yard dumpster for one week can cost between $300 to $500. 
The main difference between dumpsters and roll-off containers is how they get transported to and from a job site. A dumpster is a stationary container that gets typically emptied weekly or monthly. In contrast, a roll-off container is transported to and from a job site using a special truck with a hydraulic lift system. Roll-off containers are typically larger and hold more material than regular dumpsters. Additionally, roll-off containers are used for large construction or demolition projects, while dumpsters are for smaller jobs.
In Dallas, roll-off dumpsters are available in various sizes, typically 10 to 40 cubic yards. At Fusion Waste and Recycling, 20, 30, and 40-yard roll-off dumpsters are available. However, the size of the dumpster you need will depend on how much waste or debris you dispose of.
The length of time you can rent a roll-off dumpster varies from company to company. However, we, Fusion Waste and Recycling, offer rental periods of 7-14 days. We also offer shorter or longer rental periods depending on your specific needs. 
You can put various waste materials in a roll-off dumpster or open-top roll-off dumpster, including household trash, construction debris, yard waste, and appliances. However, you cannot dispose of hazardous waste such as chemicals, batteries, and electronics in these dumpsters. 
Yes, you will need a permit to place a roll-off dumpster in the streets of Dallas. You can get the license from the City of Dallas Department of Parks and Recreation, and you must follow specific regulations to ensure the safety and proper use of the dumpster. Obtaining the permit before placing the dumpster is important to avoid penalties or fines.
Yes, you cannot put prohibited items in a roll-off or open-top roll-off dumpster. These items include hazardous waste, such as chemicals, batteries, and asbestos; electronic waste, such as computers and televisions; tires, mattresses, and refrigerants. Additionally, items that are too heavy or bulky, such as large pieces of concrete or brick, may also be prohibited. You must check this with your dumpster rental company's proper disposal guidelines.
Great staff. New trucks. Number 1 roll off dumpster company in Dallas, that I have the pleasure of refueling with diesel fuel. They really make you feel like family.
Hands down the best in DFW. You get what you pay for when it comes to trash service. If you want a reliable company, call Fusion.
I use Fusion for all my trash and recycling needs. Best customer service around! FUSION IS THE BEST!
They gave me a reasonable quote quickly, were very responsive, and showed up when they said they would. The workers that removed the mattress were polite and efficient. Would absolutely recommend them to anyone looking for a junk removal service.
Great communication and flexibility with the time frame that I needed and super efficient removal of construction debris material all over. The manager and his crew were very professional and kind. Can't recommend them enough!