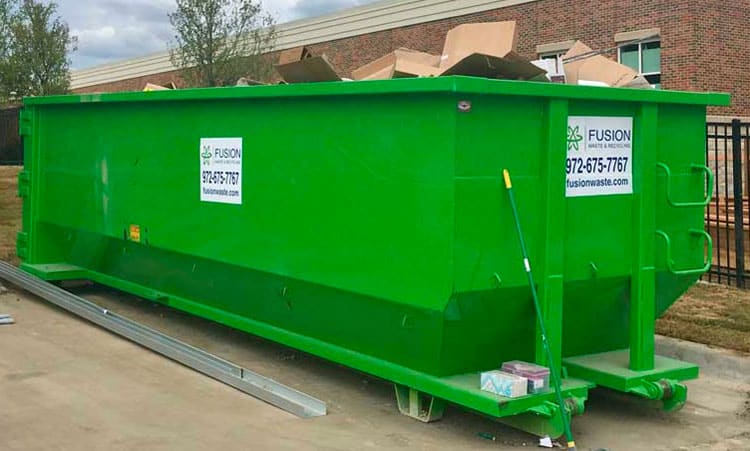 Roll-off dumpsters are large containers for waste removal in construction sites, large-scale cleanup projects, and other such endeavors. They are typically rented temporarily, with rental lengths differing from a few days to a couple of weeks or more. These dumpsters are also effective for managing household waste and yard debris. Choosing the right-sized dumpster for any project is crucial to ensure efficient disposal and save time and money. Here's a quick guide on roll-off dumpster sizes.
Common Roll-Off Dumpster Sizes
When managing large amounts of waste, one of the most effective ways is to rent a roll-off dumpster. Roll-off dumpsters are specially designed containers that fit on a truck's back and can get transported to the waste site. 
The most important thing to remember while renting a roll-off dumpster is its size. Let's look at different roll-off dumpsters in various sizes.
10-yard dumpsters
10 yard dumpster is the smallest in terms of size. These are handy for small cleanups in the home or limited space. The size of this dumpster is 12 ft. Long, 8 ft wide, and 3.5 ft. high. This dumpster is perfect for small amounts of waste, such as yard debris, household items, or construction site debris.
20-yard dumpsters
It is most common to rent dumpsters of this type – 20 yards. It is ideal for larger household cleanouts, remodeling projects, and roof tear-offs; these dumpsters are approximately 22 ft. long, 8 ft. wide, and 4 ft. high, providing a good balance for volume and space.
30-yard dumpsters
30-yard roll-off dumpsters are suitable for construction sites, large demolition projects, and major home renovations. With dimensions of roughly 22 feet long, 8 feet wide, and 6 feet high, they offer ample space to dispose of construction and demolition debris efficiently.
40-yard dumpsters
With 40 yards in length, 8 feet in width, and 8 feet high, 40-yard dumpsters are the largest roll-off dumpster sizes. You can use them for large construction projects, large-scale demolition jobs, and commercial projects with overwhelming waste.
Comparison Of Sizes
Waste management companies, such as Fusion Waste Management, provide a variety of roll-off dumpster sizes. When comparing roll-off dumpster sizes, it's important to consider the weight of the waste you will dispose of and any space restrictions or permits required for placing the dumpster on your property.
Before renting a dumpster, consider the truck dimensions too. These large trucks need adequate clearance and maneuverability to deliver and pick up the dumpster. Trucks delivering roll-off dumpsters vary in size but are typically 20-30 feet long, 8 feet wide, and 12-15 feet high. 
Factors To Consider When Choosing A Dumpster Size
#1: Size of roll-off dumpster
When embarking on a renovation, construction, or decluttering project, it is essential to consider the appropriate size of a roll-off dumpster. Choosing the right size ensures efficient waste management and saves you from additional costs arising from insufficient space to dispose of your waste. 
One critical factor in determining the size of a roll-off dumpster is the type of project. For instance, a spring cleaning exercise might only require a small container, whereas a construction site will likely generate substantial amounts of debris, necessitating a larger dumpster. 
It is essential to note that the roll-off dumpster rental cost increases as the container's size grows. Therefore, selecting the appropriate size while considering your budget is prudent. 
#2: Available space 
Another factor to consider when choosing a roll-off dumpster size is the available space on your property. You need to ensure enough room for the roll-off dumpster truck to maneuver around safely and drop off or pick up the container. Consider factors such as overhead wires, tree branches, and other potential hindrances when determining the space.
Roll-off dumpster trucks come in different dimensions. The standard truck size for roll-off dumpsters can range from 12 to 20 feet long and eight feet wide. Depending on the truck's size, you might require additional space for turning into your property or during pickup.
#3: Weight restrictions and local regulations in Dallas, TX
Before renting a roll-off dumpster, you must check the weight restrictions imposed by the dumpster provider and the local authorities in your location. Typically, roll-off dumpster weight limits range from 1 to 10 tons, depending on their sizes.
Did you know that if you exceed your weight limit, your dumpster or truck may be damaged, and fines may apply?
Every city/state/county in the U.S. has different waste disposal regulations. This fact is especially true for construction and demolition projects. For instance, In Dallas, you'll need city building inspection department permits for construction work. So, you must follow the city's land development and building codes and see the dumpster's limits, requirements, and coverage.
It is best to consult your roll-off dumpster provider and local authorities to ensure you adhere to all waste disposal regulations and avoid legal and financial issues. 
What Is A Dumpster Or Garbage Truck Height Clearance?
Garbage truck height clearance depends on the type of truck. For instance, for a front loader, the truck height clearance is 13 to 15 feet (i.e., approx. 3.96 to 5 meters). Similarly, for the rear loader, the clearance is 11 to 12 feet (i.e., 3.35 to 3.66 meters), and for the side loader, the height clearance is 10 to 11 feet (i.e., 3.05 to 3.35 meters).
How To Choose The Right Dumpster Size
When deciding on the right roll-off dumpster for your project, one of the most vital factors is the amount of waste you will generate. Proper evaluation of waste volume is key to optimizing your budget, space, and overall project efficiency. 
Familiarize yourself with the various roll-off dumpster sizes. Popular sizes range from 10 to 40 yards, with numerous options in between. 

Compare the actual dimensions of the dumpsters with your project site in advance to ensure trucks can maneuver easily. 

Roll-off dumpster truck dimensions can vary greatly, so checking if you have limited or narrow access to your location is important. Any obstacles, such as power lines, parked cars, or low-hanging branches, can limit access and require additional preparation or coordination before delivery. 

When choosing the right roll-off dumpster size, consider the rental cost. Roll-off dumpster rental cost varies depending on the size of the dumpster, duration of the rental, and location of the project site. Be sure to shop around and request several quotes from waste management companies, and compare the final prices to see which company offers the best value for your money. 

Don't forget to consider the waste type you'll dispose of. Certain materials, such as concrete or dirt, are denser and will fill up a dumpster more quickly, while lighter materials, such as pieces of large furniture or household items, will take up more space. 
Estimating the waste volume and density ahead of time will help you select the appropriate roll-off dumpster size for your project, reducing the likelihood of overpaying for dumpster rental fees or ordering an additional dumpster mid-project. 
What are the considerations of your project needs and estimated rental period?
Project Duration: Assess whether you will need the equipment or tool throughout the project.

This process will help you rent the necessary equipment.

Equipment Type:

Different types of equipment come with varying rental terms. For this equipment's intended use and rental period, you must analyze it as per the project requirements. For instance, certain tools or machinery may require high maintenance or storage costs, so it's crucial to determine the type of equipment that will fit the project's needs.

Budget:

Renting also requires consideration of the financial aspect. Establishing a budget will allow you to explore and rent/heavy machinery that falls within the allotted financial limits, providing time-efficient solutions and necessary cost-cutting on your project.

Equipment Availability:

It is important to evaluate equipment availability, especially for high usage seasons or demand. Renting in advance and holding a reservation for equipment may be advisable for projects beginning in busy months with high-volume rentals.

Condition of Equipment:

Before renting machinery, a careful evaluation of its condition is essential to ensure its quality matches the rental agreement. 

Operator Training Requirements: 

Also, determine whether the machine requires accredited operators, training, or certification. This process helps avoid discrepancies or mishandling issues during equipment usage.
If you need to learn how to get started with these considerations or need help figuring out an estimation for a rental period, consult with a dumpster rental company. They'll give you a precise estimate as per your needs.
Tips For Proper Loading Of A Roll-Off Dumpster 
Whether you are a homeowner who needs to dispose of some household clutter or a construction site manager who needs to dispose of demolition debris, the following tips should help you load a roll off dumpster correctly.
Tip #1: Don't Overfill the Dumpster 
An appropriate filling is one of the most important things to remember when loading a roll-off dumpster. You must fill the dumpster to the top rim, not beyond. Overfilling the dumpster violates local regulations and can cause problems. The driver may refuse to pick up a crammed dumpster, so you may have to pay for additional rental time.
Tip #2: Don't Fill Any Hazardous Waste 
You must avoid filling your dumpster with hazardous waste. Chemicals, flammable materials, and electronic waste are among these dangerous wastes. Your waste management company and the city regulations also strictly prohibit this. But if you have to dispose of hazardous waste, you should contact a waste removal company specializing in discarding dangerous waste.
Tip #3: Distribute Weight Evenly 
When loading the dumpster, distribute the weight evenly throughout the container. Too much weight on one side can cause the dumpster to tip over during transport. It is wise to place light items at the top of the container while heavy items at the bottom. Additionally, try to keep the weight balanced from side to side.
Tip #4: Use the Right Dumpster Size 
Choosing the right dumpster size is crucial when loading it properly. The risk of overfilling a dumpster is greater if you choose a dumpster that is too small. On the other hand, filling it may be challenging if you decide on a too-large dumpster, which can lead to extra rental costs. Be sure to select a dumpster size that is appropriate for your needs.
Tip #4: Keep it Organized 
Finally, keep the dumpster organized as you load it. This means grouping similar items and separating any recyclables. This will make the loading and sorting process easier when disposing of the waste. Keeping the dumpster organized will help you avoid digging through piles of trash later.
Importance Of Choosing The Right Dumpster Size
Roll-off dumpsters come in various sizes depending on your requirement. Common roll-off dumpster sizes include 10-yard, 20-yard, 30-yard, and 40-yard dumpsters. Your size will depend on the amount of waste you have, the project's duration, and the space available for the dumpster. Choosing the right size is essential to avoid additional costs, such as renting another dumpster or making extra trips to the landfill.
The cost of renting a roll-off dumpster depends on many factors, including the size you choose, the weight of the waste, and the distance the dumpster needs to travel. You must contact your local waste management company for a quote that includes delivery, pickup, and disposal fees. Some companies offer flat-rate pricing, while others charge by the day or week.
Protecting our environment requires effective waste management. Choosing the right roll-off dumpster size saves money and ensures responsible waste disposal. Proper disposal involves recycling, reusing, or landfilling waste, depending on the material. 
You can decrease your carbon footprint and environmental impact by choosing a reliable waste management provider that prioritizes proper disposal.
Frequently Asked Questions (FAQs)
Roll-off dumpster rental costs vary depending on the size, location, duration, and type of waste, but on average, prices range from $300 to $500. Factors such as delivery fees, weight limits, and rental agreements may affect the final cost, so research and compare prices from different companies before deciding.
The roll-off dumpster size depends on the scope of the project and the type of materials you're tossing. A 10-yard dumpster would be fitting for small cleanups in the home or limited space, a 20-yard dumpster is better for larger household clean outs or remodeling projects, while a 30 to 40-yard dumpster would work for large demolition projects or full home renovations.
An empty roll-off dumpster weigh can vary depending on the size of the dumpster. Usually a 10-yard dumpster can weigh around 3,500 lbs and a 40-yard dumpster can weigh around 6,500 lbs.