About Us
Company Mission
Fusion Recycling is the New Age Thinker in environmental services for DFW. Our industry expertise is in maximizing landfill diversion by offering recycling solutions for all markets. We are not your traditional recycling company offering standard services. Our New Age Thinkers will assist each client with their individual needs and goals, step-by-step.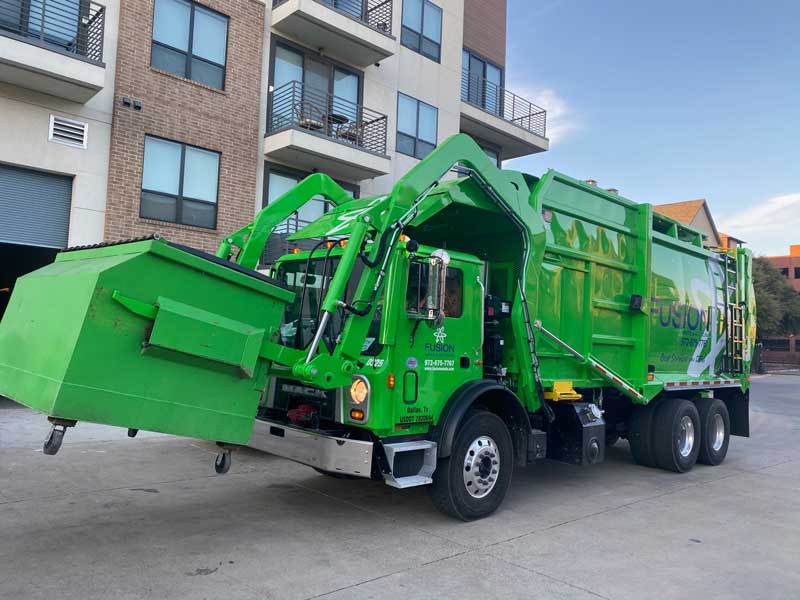 FUSION WASTE & RECYCLING
Fusion Recycling Inc. is an independent MBE waste/recycling company. Our one-stop collection cart service is perfect for all businesses, school districts, and multi-family housing communities in the Dallas-Fort Worth Metroplex seeking sustainable recycling solutions for Zero Waste to LEED Initiatives. Every day we are diverting commodities from the landfill, recycling, and working on your behalf for our environmental future.
Our company provides mixed recycling, Organic Recycling, and solid waste collection programs for North Texas. Our portfolio of clients allows them to divert materials from landfills such as cardboard, plastics, glass, scrap metal, e-waste, wood, Organic Recycling, Styrofoam, yard waste, and many more commodities, including Business Paper Shredding Services.
Founded in 2013 with over 35 years of solid waste and recycling experience, Fusion Recycling is based on the belief that every business should have the opportunity to recycle all its materials. Our team will work closely with your business to enhance/implement a Green Program. We believe the key to a successful recycling program begins with education, collaboration, and communication. Our turnkey service includes assisting your company with the training, implementation, and signage.
Program Benefits
Reduce your carbon footprint
Reduce landfill costs
Increase recycling
Increase commodity rebates
Great staff. New trucks. Number 1 roll off dumpster company in Dallas, that I have the pleasure of refueling with diesel fuel. They really make you feel like family.
Hands down the best in DFW. You get what you pay for when it comes to trash service. If you want a reliable company, call Fusion.
I use Fusion for all my trash and recycling needs. Best customer service around! FUSION IS THE BEST!
They gave me a reasonable quote quickly, were very responsive, and showed up when they said they would. The workers that removed the mattress were polite and efficient. Would absolutely recommend them to anyone looking for a junk removal service.
Great communication and flexibility with the time frame that I needed and super efficient removal of construction debris material all over. The manager and his crew were very professional and kind. Can't recommend them enough!