Trash Pickup & Removal Services in Dallas, TX
Welcome to Fusion Waste & Recycling – Dallas's best trash removal and pickup service! We work hard daily with our services in Dallas to improve cleanliness and the quality of your life. In addition to removing/picking up your trash, we facilitate you with various pickup options, container options, and disposal services, all to organically recycle it. If you need a trash pickup & removal service in Dallas, look no further and contact us immediately. Let's talk trash! Dallas area.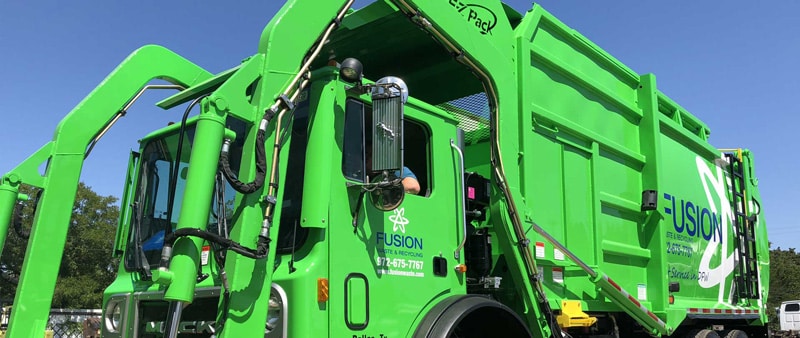 Remember Us for Trash & Junk Removal Service in Dallas
Fusion Waste & Recycling has been a local trash and junk remover in Dallas for 36+ years. That's why we offer a diverse range of residential and commercial Dallas trash dumps. We provide all kinds of garbage services for the Dallas city area such as: 
Residential Trash Pickup & Removal
Curbside Pickup:

We offer weekly trash and recycling service for you.
Bulk Trash Pickup:

Our service also entails picking up large, bulky items like furniture, appliances, or construction debris.

Yard Waste Removal:

We offer to collect and dispose of your yard waste, including leaves, branches, and grass clippings.
Commercial Trash Pickup & Removal
Office Cleanouts:

Fusion Waste & Recycling removes unwanted furniture, equipment, and electronics.
Construction Debris Removal:

Our trained specialists have the right equipment to clear out construction and remodeling sites.

Property Management Services:

We offer customized trash removal service in Dallas for property managers and landlords.
Junk Pickup & Removal in Dallas, TX
Appliance Removal:

We recycle and dispose of refrigerators, washers, dryers, ovens, and more.
E-Waste Disposal: Our safe and eco-friendly disposal methods for all commercial waste disposal allow us to dispose of electronics like computers, monitors, printers, etc.
Estate Cleanout Assistance:

It's hard to go through your deceased loved one's belongings; we understand your pain. So we can help you clear out their belongings and safely dispose of/recycle them without having you go through them.
Our service is not limited to the given list. We offer more! So, contact Fusion Waste & Recycling to learn more about our trash hauling and pickup service!
Trash Pickup Scheduling and Locations in Dallas
Never miss a trash day again–our reliable and punctual crew picks up your waste weekly!
Residential Trash Collection:

Once a week.

Commercial Trash Collection:

Once a week.

Bulk pickup:

Available as requested.

Emergency Trash Collection:

24/7 on standby!

Holiday Trash Collection:

Schedule on Thanksgiving, Christmas, and New Year's.
These are our typical trash pickup schedules. At Fusion Waste & Recycling, we offer a flexible and convenient trash pickup schedule so you can choose a specific time and location that works best for you. 
We can customize your pickup schedules as per your needs. Do you want daily/weekly/monthly pickups? No problem, we can suit your requirements. Let us know when and where, and we will gladly assist you with trash pickups!
Different Types of Trash Pickup Containers and Disposal Services
Fusion Waste & Recycling provides several size dumpsters, including front-load dumpsters (2-Yard, 3-Yard, 4-Yard, 6-Yard, & 8-Yard) and roll-off dumpsters (20-Yard, 30-Yard, & 40-Yard) renting options. Whether you need space for a renovation, construction project, or large event, we offer flexible rental terms. Our team will deliver the container to your location. Then, we'll stay on the line to pick it up on the exact day.
Fusion Waste Offers Organic Trash Recycling in Dallas
Our mission is to create a greener Dallas. That's how we've adapted revolutionary recycling methods and junk removal services. We collect and process organic materials and then recycle or compost them. With our culture of recycling and composting, we work to voice the environmental issues and our responsibility towards them. 
Fusion Waste & Recycling makes organic trash recycling possible by providing separate trash bins to segregate your trash from household food waste to plastic bags or other harmful waste and put it in the designated bucket. On pickup day, you only need to place your bucket in the pickup area, and we will collect the waste separately. We will then responsibly compost all organic materials like leftover food, vegetables, etc. 
Let's work together to manage waste responsibly in Dallas, Texas. Whether working together with Fusion Waste or independently, we can make a difference. 
Contact A Reliable Trash Service Company in Dallas
Fusion Waste & Recycling has unmatched expertise in trash removal and pickup services. Our professionals have 25+ years of experience and can provide stellar customer service. Since trash trash hauling in Dallas is a basic day-to-day life chore, we want to give you the service you can afford. Our prices are competitive, and regardless of years of experience and superior service quality, we remain fair and transparent. 
Contact us today to schedule your first pickup or request a quote. Get Started Now!
Frequently Asked Questions (FAQs)
First, to set up a junk removal and trash service in Dallas, obtain the necessary permits and licenses from the local government. Investing in trucks, dumpsters, and employee safety gear is also essential. Building a solid customer base and implementing efficient disposal methods are crucial for success in this industry.
The cost of setting up a trash service near you varies depending on the size and frequency of service needed. Factors such as the type of waste, location, and disposal fees can also impact the cost. The cost of setting up a trash service with Fusion Waste and Recycling in Dallas is affordable and flexible, as we offer customized solutions to meet your specific waste management needs.
At Fusion Waste and Recycling, trash service hours for Dallas residents are from 8 am-5 pm on Mondays through Fridays. We are closed on Saturdays and Sundays. Also, note that these hours may be subject to change on holidays or during inclement weather.
A trash pickup service does not accept hazardous materials, such as chemicals, batteries, electronics, or medical or biological waste. Proper disposal of such items is vital for safety and environmental reasons.
If you reside in Dallas or own a business in Dallas, it is crucial to follow the rules and regulations set by the city for disposing of hazardous waste. Some guidelines include separating dangerous waste materials from regular garbage, labeling them properly, and disposing of them at designated facilities. Failure to comply with these regulations can result in fines and penalties.
If you need a replacement trash bin in Dallas, contact Fusion Waste and Recycling through our customer service hotline or email. Our representative will assist you with the process and arrange a new container for your location.
Customers can get hold of customer service through phone or email to extend or cancel trash service in Dallas with Fusion Waste and Recycling. Remember that cancellations must be made 48 hours in advance.