Best Trash Removal & Pickup Service in Dallas, TX
Nobody wants poor trash service. You want the best.
As a community member, you understand how important it is to have a reliable waste disposal and recycling company that provides you with regular routine options for your everyday disposal needs but also has options for projects and big events you may need help with. You also need to know the company you work with is reliable and makes your priorities their priorities. Lastly, you want to know that when you're told your trash will be handled properly, it'll be handled properly.
Fusion Waste & Recycling is that type of company. We believe in offering all customers the best options for their trash service using the right products and solutions. We are the solution for your trash and junk removal & pickup needs throughout the Dallas area.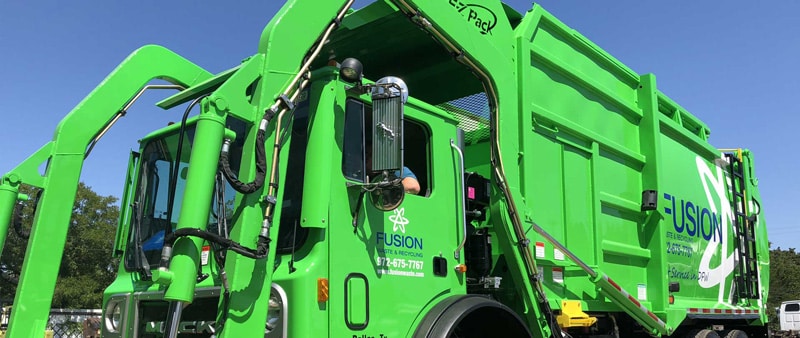 Count on us for Trash and Junk Removal & Pickup
Founded in 2013, Fusion Waste & Recycling has been built on over 35 years of solid waste and recycling experience. We are an independently owned, community-focused company. Our disposal services are perfect options for all residential, commercial, and government customers in the Dallas area.
We offer a variety of complete collection services, as well as rental and waste haul-away options related to job-specific needs. No matter the trash service, large and small clients receive prompt quality service from us all the time. We will assist each client with their individual needs and goals, step by step for the best trash removal and pickup service in the Dallas area.
Our trash/junk removal and pickup services include:
Cart, Dumpster, and Compactor Service (various sizes)
Valet Service
Paper, Cardboard, Plastic, Aluminum, and Glass Recycling Service
Confidential Business Document Shredding
Electronic Waste Disposal
Organics (Food Waste) Recycling
Trash Pickup Scheduling and Locations in Dallas
We understand all clients have specific needs and schedules of their own to maintain. As a result, we offer a variety of waste and recycle collection pick-ups. Fusion Waste & Recycling provides scheduled or special "one-time" pick-ups based on your needs, tailored as best as possible to your situation. Let our experts in trash removal and pickup in Dallas design a schedule that is cost-effective and beneficial for you.
We also understand clients often have space restrictions. For such cases, our company provides valet/interior pick-ups for locations like our highrise customers. If you have something that can't fit in a dumpster or other container we provide or have a lot of one type of item like wooden pallets, we can schedule a bulk pick-up. Our pick-up service also accommodates dock, ground-level, and special "hard-to-reach" clients.
In short, your location and schedule requirements aren't barriers to us providing the service you want and expect.
Different Types of Trash Pickup Containers and Disposal Services
Fusion Waste & Recycling offers a wide variety of trash pickup containers and disposal services throughout the Dallas area to meet your commercial needs, whether it's on a recurring basis or project by project. Larger individual containers are also available upon request. We provide prompt and appropriate options that will not only be a solution for you, but for your employees, tenants, or community. These options include:
Waste & Recycling Carts
Bins, Baskets, and Specialty Containers
All of the above trash and junk removal and pickup services can be utilized on a regular disposal schedule or on-demand (like a roll-off dumpster for construction debris). Our waste and recycling carts are perfect for residential customers, while our front-load dumpster, roll-off dumpster, compactor, and tailored recycling services are perfect options for businesses, government entities, and multi-family properties in and around the Dallas area. Whatever your needs, we have the solution.
Fusion Waste Offers Organic Trash Recycling in Dallas
Yes, we are a major recycling company, but recycling doesn't stop at the typical paper, plastic, and glass items you're used to. Organics, or food waste, recycling is a service that many may not completely understand and have a lot of questions about.
Well, to get to the point, organic waste makes up the largest amount of waste going into landfills or being incinerated to cut down on landfill dumping. We're helping Dallas by diverting organic waste from grocery stores, restaurants, schools and other businesses and repurposing it by converting it into compost or animal feed. Removing food waste from landfills helps the environment while putting it to better use.
If you're interested in organic recycling, our recycling experts will provide you with educational literature and create a customized program.
Our disposal and trash removal and recycling professionals are ready to assist you in satisfying all your trash service needs.
Contact A Reliable Trash Service Company in Dallas
If you're seeking a reliable trash service from a company that's mission is to provide sustainable waste and recycling solutions for our community, we're the local choice for you.
Fusion Waste & Recycling understands what Dallas needs in terms of waste and recycling services. We firmly believe in being your trash service solution. Don't hesitate to reach out if you would like more information or to schedule a consultation.