Compactor Recycling Services For Waste in Fort Worth, TX
If you're a business or organization in Fort Worth, TX and are in need of on-site compactor services with recycling capability or an emphasis on environmental diversion programs, Fusion Waste & Recycling has the equipment you're looking for. We're able to provide a variety of compactors that are roll-off designs, making them easy to transport, deliver, and service as scheduled or necessary.
Our choices of waste recycling compactors also make it easy to choose based on your location and space requirements, as well as taking into consideration the type of waste you're expected to generate and handle and what we can do to help you recycle. Our compactors are well-maintained and utilize the best and most environmentally-friendly technology to increase efficiency while also working hard to minimize impacts on the local environment as much as possible.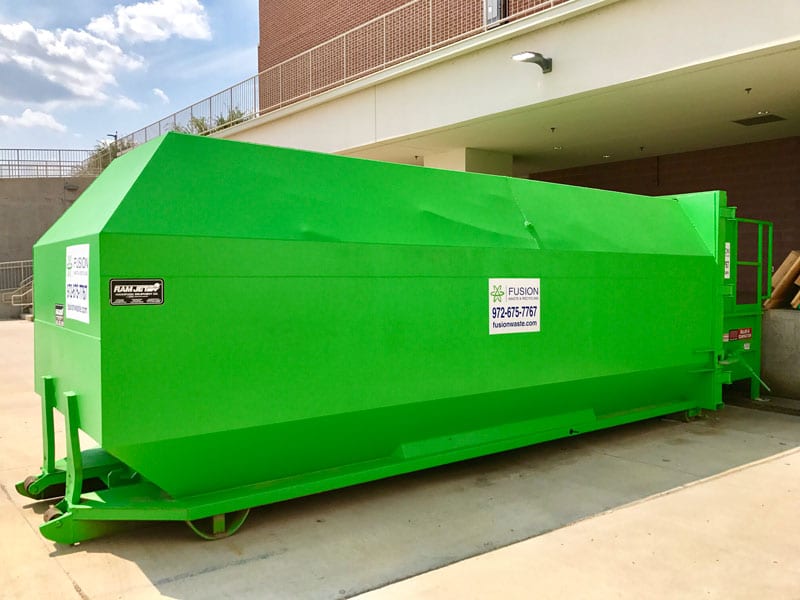 If you're in Forth Worth and are interested in compactor services, especially for recycling needs, Fusion Waste & Recycling is ready to provide you with the solution to any and all of your waste handling requirements.
What's a Recycling Compactor?
That's an excellent question. We shouldn't assume, because you're here looking for information on waste and recycling compactors, that you know exactly what a compactor does and why it's a great option for a lot of waste and recycling needs.
A recycling compactor is essentially an enclosed dumpster that has the mechanical capability to compact waste deposited into it. The compaction results in a smaller, compressed product that takes up less space by volume while increasing the overall holding capability of the compactor itself.
In other words, by making the waste smaller, there's less wasted space and more room to hold more disposed items. Compaction also makes final disposal of the waste easier. Lastly, using a compactor ensures the waste items are contained in a rugged, self-contained unit that is designed to keep pests out and contaminants in.
What Do Recycling Compactors Do?
If you're still wondering if a waste recycling compactor is a good idea for your needs, one thing that needs to be considered is how much waste you think you'll be producing? If you believe you're going to produce more waste than a front-load dumpster can handle, either in the short term or long term, then you're already on the right track.
The next question is, if you're going to be producing a lot of waste, even if it's dry or wet waste, how long do you think you'll need services. If it's a short, quick project, other options other than a compactor might be more useful.
However, if you're establishing a new business or other organization that has a lot of employees, customers, or foot traffic and waste disposal and recycling is a major concern, then the benefits that a compactor offers are hard to pass up.
With a recycling compactor, remember, you're getting:
Increased waste disposal efficiency
Less frequent waste service disposal pick-ups
Environmentally friendly on-site receptacle that doesn't attract pests and contains odors
Perhaps the greatest benefit, though, is the sheer diversity of waste compactors can handle. Besides being able to handle both wet and dry waste, they can also process medical waste, hazardous waste, and bulky items like barrels and pallets.
What Facilities Should Choose Recycling Compactors?
A compactor's ability to handle such a wide range of products, along with their efficiency and design features make them especially appealing to places like:
Recycling Facilities
Multi-housing Communities
Hospitals
Stadiums and Sports Complexes
Schools
Industrial Facilities
Fabrication Plants
Department Stores
Grocery Stores
Government Office Buildings
Scrapping Facilities
Malls
Restaurants
Warehouses
This is only a short list of all the types of facilities and locations that actively use compactors for both their waste disposal and recycling needs. If you feel like you fall into one of the categories above or feel like your organization is similar to one, please contact us and we'll be more than happy to make compactor recommendations for you.
How Is A Compactor Designed?
Compactors come in a number of different designs, based on the scale of the work needing to be done, in addition to the size of the location in which the compactor is needed. Again, if you feel like a compactor is right for you, we'll be more than happy to recommend what we believe is the best design option for you.
The Best Recycling Compactor Service in Fort Worth, TX
Because compactors are also functioning pieces of equipment, they require scheduled maintenance to ensure they operate at the highest potential. In addition, corrective maintenance may be occasionally needed to repair any issues and replace parts as needed.
Regarding compactor maintenance, we're always on call, ready to provide any maintenance services needed to keep your compactor up and running.
With over 35 years of experience in the waste disposal and recycling management, Fusion Waste & Recycling professionals are here to ensure you get the right compactor solution you need in Fort Worth and the surrounding area.
Contact us today if you have more questions about compactors or compactor recycling services. We're ready to help in any way we can.
Frequently Asked Questions (FAQs)
Yes, commercial compactor recycling is available in Fort Worth, TX, through Fusion Waste & Recycling. Our services include collecting and processing commercial waste materials, including recyclables, for businesses in the area.
We recommend throwing non-hazardous waste materials in a compactor, such as office paper, cardboard, plastic, and aluminum cans. However, do not dispose of hazardous items like chemicals, batteries, and electronics in a compactor.
The frequency of pickups will depend on the amount (volume) of waste generated and the capacity of the compactor. We recommend scheduling pickups weekly or bi-weekly to keep up with demand and maintain optimal hygiene. To schedule a pickup for your compactor with Serenity Moving Services in Fort Worth, TX, call our customer service team and schedule a convenient time.
The cost for a compactor recycling service in Fort Worth ranges from $150-600 per month, with additional costs for delivery and installation. Remember that the price for our compactor recycling service in Fusion Waste & Recycling depends on the type and size of the compactor, the frequency of pick-ups, and the amount and type of materials that need recycling.
No, you shouldn't use a compactor to recycle sensitive documents as it may not destroy the information and could lead to potential security breaches. However, if you need to recycle sensitive documents, we, Fusion Waste & Recycling, provide professional shredding services to professionally destruct documents and safely dispose of the safe, sensitive documents.
Yes, there is a minimum requirement of 10 cubic yards for a compactor pickup in Fort Worth, TX, with Fusion Waste & Recycling. However, there is no maximum amount, as we can accommodate any size of recyclable material pickup.