Waste Management Service in Fort Worth, TX
It's easy to think about waste management companies in terms of strictly the services they provide, especially those they provide directly to you as a consumer. For most of you, these services are usually limited to trash and recycling services at your home or business.
This is pretty normal and not at all surprising. Why would you think about anything else in terms of waste management companies other than what they provide for you?
With Fusion Waste & Recycling, we believe it's important for you to know not only what we provide for you on a routine basis, but what else we provide for our other customers as well as Fort Worth as a whole. As a company firmly focused on providing the best waste management and recycling solution we can, we're constantly striving to improve the lives of our customers and our communities.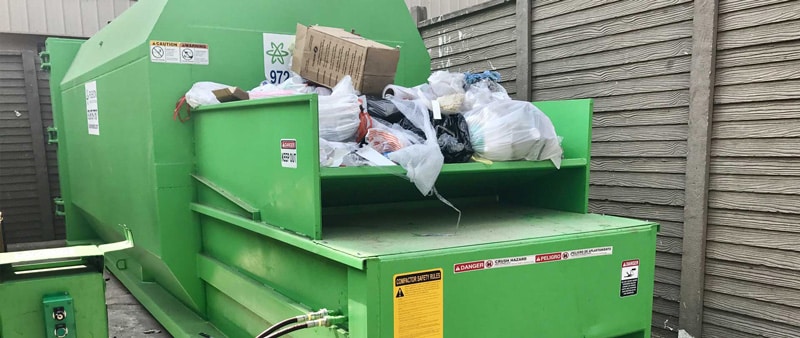 If you see a Fusion Waste & Recycling truck or dumpster, we want you to understand we're not just collecting and disposing of waste in an environmentally conscious way. We're also taking important steps to show our citizens and communities how important proper waste disposal is, the benefit there is for all of us in reducing greenhouse gasses by diverting waste from landfills where possible, and also, when possible, repurposing waste for the greater good.
So, if you're interested, let's take a further look at what Fusion Waste & Recycling does throughout Fort Worth and what waste management services it can provide for you that you might not have been aware of.
Fusion Waste Specialises in Waste Management Through Recycling
Yes, recycling is part of our name, but it's also something we're proud to say we're experts at. Unlike other traditional waste management companies, Fusion Waste & Recycling doesn't strictly focus on waste service collection or on providing large collection containers to residents or businesses.
No, we believe that recycling is a mindset and should be a central focus for any waste management company.
By making recycling a mindset, we set an example for others to follow. As a waste management company, we recognize the fact that we clearly have a responsibility to you and Fort Worth, to provide services that minimize the harmful impacts waste can have on our communities and our environment if not handled properly and efficiently.
Part of handling waste properly and efficiently is through thorough recycling programs that divert unnecessary waste from landfills and repurpose it for more resourceful purposes. Recycling and repurposing also leads to the reduction of future waste.
The end result is fewer overfilled landfills and fewer greenhouse gasses in the atmosphere.
But our focus on recycling doesn't end with waste disposal alone. We also help citizens, businesses, and organizations establish their own internal recycling and green initiative programs. We believe education is the forerunner to any great program, and as a leader in this field, Fusion Waste & Recycling is always there to help.
The more we educate others about the importance of recycling, the more our citizens and local communities will enjoy the benefits of a cleaner and more resourceful Fort Worth.
Waste Management With Recycling Food
You won't hear too many waste management companies brag about being a huge proponent of food recycling, but we do. Well, we don't refer to it as food recycling. The more appropriate term is organic recycling.
That being said, the main thing is that Fusion Waste & Recycling is a leader in Fort Worth in helping our fellow citizens divert their organic waste from the landfill and into more beneficial needs like repurposed feed for cattle.
We help our local grocery stores, restaurants, schools, and other businesses and organizations set up their very own organic recycling initiatives using our customized and tailored recommendations and products.
Waste Management With Proper Disposals in Fort Worth
Although we're huge proponents of recycling and environmental protection, we're also a waste management company. Besides recyclable products, we also ensure the proper disposal of other waste products such as traditional trash, bulky items, demolition and construction debris, green waste, and special hazardous and medical waste.
Our waste management services include:
Electronic Waste Recycling and Disposal Service
Paper, Glass, Cardboard, and Metal Recycling Service
Bulk / Junk Removal Service
Document Shredding Service
If you'd like more information on any of the services above and how they may benefit your waste disposal needs, our professional managers are ready to help with recommendations based on experience.
The Waste Management Company for Fort Worth
It may be bold to say that Fusion Waste & Recycling is the best choice for any of your waste management needs throughout the Fort Worth area. However, we stick by that belief. Our over 35 years of waste disposal and recycling experience as well as our customers' satisfaction has given us that belief.
If you're in need of a waste management company that has your best interest at heart, then contact us. We're ready to provide you with the services you and the Fort Worth area deserve.
Frequently Asked Questions (FAQs)
Setting up a waste management service in Fort Worth costs about $34.30, including sales tax. However, Fusion Waste and Recycling offer different price points depending on the size of the container needed, how frequently you need the service, and the volume of your waste. We will help you develop a price package that fits your budget and needs.
Fusion Waste and Recycling are open from 8 am to 5 pm for waste management service pickups in Fort Worth. We are available from Mondays to Fridays. However, we are closed on Saturdays and Sundays.
If your trash or recycling doesn't get collected on a scheduled day, you must contact our customer service and address the issue immediately. Our team will inform you if there is any operational issue or a schedule change. However, you must ensure that your bins get placed in the pickup area so that the pickup team won't fail to clear the trash.
To know if waste management services are available in your area, contact Fusion Waste & Recycling. Just call or email us or reach out to us through our website. We will assist you with the services we provide near your area.
Yes, waste management bulk pickup is available by Fusion Waste in Fort Worth. Other services such as Electronic waste management, junk removal service, document shredding service, metal recycling service, and others are also available.