Your Trusted Partner for Waste Management in Dallas, TX
Are you searching for a trusted partner in Dallas for sustainable waste management? Look no further- Fusion Waste & Recycling is your go-to solution provider in Dallas, Texas. We understand how crucially responsible waste management is for the environment and the community. That's why we strive to offer you the best-in-class waste management Dallas service that meets your needs. We are your reliable companion in effective solutions by utilizing our state-of-the-art equipment and complying with all regulatory standards.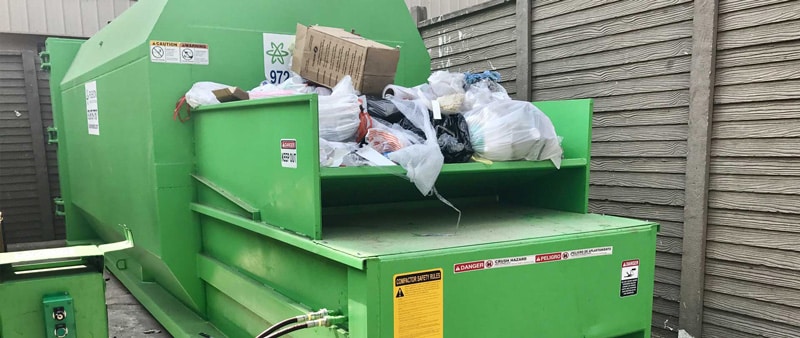 A Quick Snapshot of Our Waste Management Services in Dallas
At Fusion Waste & Recycling, we do not compromise when it comes to waste management. Our waste management services in Dallas, Texas, cover all aspects of the industry. Whether you're a business entity, school district, government entity, or multi-family property, our bespoke solutions are bound to meet your unique needs. 
Here's a quick overview of our services–
✓ Front-Load Dumpster Services
Our front-load dumpster services are perfect for businesses or residential properties needing regular and consistent garbage collection. We provide a range of dumpster sizes to accommodate your needs. These dumpsters are also great for companies in an alley, parking lot, or driveway space. Our experts schedule their pickups conveniently to ensure efficient and responsible waste management.
✓ Trash and Waste Recycling Services
By choosing our trash removal and waste recycling services, you can actively participate in reducing landfill waste. Our recycling carts and bins allow convenient segregation of recyclable materials. If you're wondering where to recycle in Dallas, we are here to help. Pick our services to make a difference in the environment.
✓ Roll-Off Dumpster Services
If you have a commercial property generating more waste than normal, then our roll-off dumpster services are ideal. They suit large-scale projects like construction, renovations, and major cleanouts. Our roll-off dumpsters vary in size and can contain substantial amounts of garbage. We ensure proper waste disposal by promptly delivering the dumpsters to the site, safely disposing of the waste once filled, and constantly refreshing the dumpsters for hassle-free project completion. 
✓ Organic Recycling Initiative
Our organic recycling initiative is a part of our commitment to sustainability. We understand how important organic waste is and its transformation potential. As part of our initiative, we collect organic waste from grocery stores, restaurants, schools, and other organizations and repurpose it into compost, animal feed, and renewable energy. Our initiative also provides a custom-tailored program to anyone interested in organic recycling.
✓ Compactor Waste Recycling Services. 
Our compactor waste recycling services are the perfect solution for businesses that produce various types of garbage in large quantities. We offer efficient and reliable compactors to minimize costs and reduce the number of pickups while handling a substantial amount of waste. For your convenience, we will schedule regular pickups similar to the one we offer with our traditional dumpster service.
Our offerings include valet services, electronic waste disposal, and confidential business document shredding services. In addition, our containers are resistant to pest infestations, leaks, and other unsanitary conditions. Should you ever encounter such cases, you can count on us for support.
All The Equipment You Need For Waste Management:
We at Fusion Waste & Recycling invest in cutting-edge technology and equipment to ensure we deliver the finest waste management solutions in Dallas, Texas. Our wide range of equipment includes–
2, 3, 4, 6, 8-yard front load dumpsters.
Self-contained, stationary, vertical, and heavy-duty compactors
10.5, 35, 65, and 95-gallon collection carts.
Roll-off dumpster, compactors, waste & recycling carts, bins, baskets, and specialty containers.
Well-maintained collection vehicles with modern features to handle trash properly.
Advanced sorting and processing machinery.
Our Bulk Waste Pickup Services
As a renowned waste management company in Dallas, we prioritize convenient and efficient waste pickup services. We offer bulk pickup services to accommodate larger volumes of waste or items that cannot easily fit into normal-sized waste bins. Our bulk pickup services are the perfect solution for residential, commercial, and industrial clients that need to dispose of items that require special handling.
We pick up common bulky items such as-
Box springs

Mattresses

Cabinets

Bed frames

Furniture items & more…
Our experts will closely work with you to determine the size and type of containers for your bulk waste. We will also schedule pickups during your convenient hours.
Our Waste Management Expertise in Dallas, TX
With over three decades of experience in fulfilling waste management needs, we are proud to be the exemplars in the industry. We keep up with industry standards and regulations to ensure outstanding services. We also train all our professionals with the best waste management practices.
In Dallas, Texas, Fusion Waste & Recycling is your go-to choice for the finest waste management solutions. We provide the highest quality service and contribute to building a cleaner community, one step at a time.
Ready to build a sustainable future? Call our team of experts today! Whatever your waste-related concerns are, we look forward to serving you.
Frequently Asked Questions (FAQs)
The City of Dallas single-family residential sanitation fees are currently $34.30 (plus sales tax). However, Fusion Waste and Recycling don't have a fixed cost. We offer customized waste management solutions tailored to your needs and budget. Our pricing varies based on factors such as the type and size of the container(s) needed, frequency of service, and volume of waste generated. So you'll pay for waste reasonably, effortlessly, and environmentally friendly.
A waste management service accepts various waste materials, including household/business waste, construction debris, electronics, metals, and hazardous materials.
At Fusion Waste and Recycling, we offer waste management services in Dallas, including regular trash collection. We collect trash weekly, ensuring that your waste gets properly disposed of to keep your property clean and tidy.
If your trash or recycling in Dallas does not get collected on the scheduled day, you should first check the service provider's website or contact their customer service. They may have faced some operational issues or schedule changes. Also, ensure your bins are placed in the designated pickup area and free from obstructions.
The Waste Management service in Dallas by Fusion Waste operates from Monday to Saturday, from 8:00 am to 5:00 pm. Our team handles all your waste disposal needs during these hours. If you want to understand more, you can reach out to us directly.