Commercial Compactor Recycling Services
The commercial compactor recycling services that Fusion Waste & Recycling provides help businesses handle a wide variety of waste types while reducing costs and decreasing the number of overall pick-ups on a routine basis. This ensures you can handle a greater capacity of waste while maintaining a pick-up schedule similar to traditional dumpster service.
Fusion Waste & Recycling is an independently owned, community-focused MBE company. Our commercial compactor recycling service in Dallas is perfect for medium to large businesses and multi-family properties in the Dallas area with great waste disposal needs. An on-site compactor will provide you with the cost savings, disposal efficiency, and environmental solutions you've sought. You can also rest easy knowing that our containers are ideal for protecting against pest infestations, leaks, and other unsanitary situations. If there are any issues, we're ready to support you to ensure your business continues uninterrupted.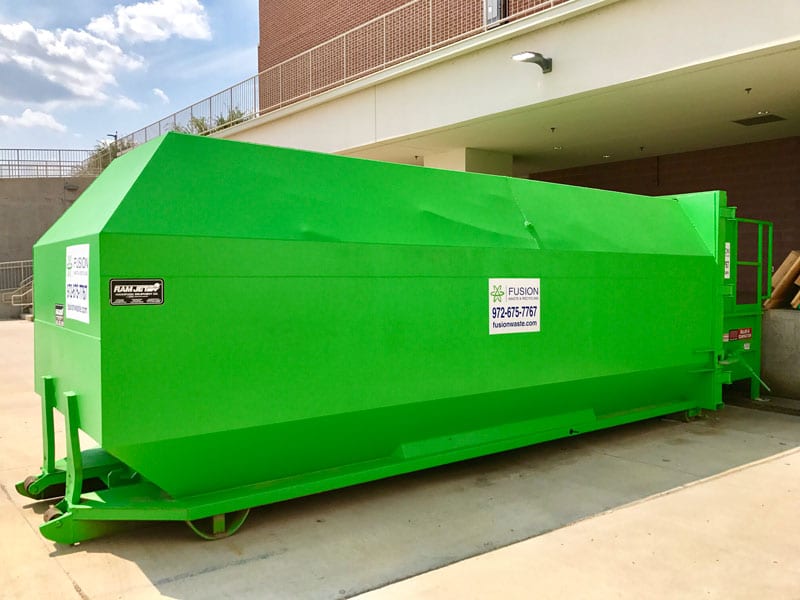 What is a Recycling Compactor?
A recycling compactor compresses your waste into smaller units, making it easy to dispose of. But it also reduces the overall volume of space that waste is not taking up, making it more cost-efficient for your business and more environmentally friendly to dispose of.

What are the different types of Recycling Compactors?
Just as different businesses and properties have different waste disposal needs, there are also different commercial recycling compactors ready to meet those needs. Fusion Waste & Recycling offers a variety of commercial recycling compactor options based on the type of business you have, the amount of waste you're dealing with, and the type of waste you need to dispose of or recycle on a regular basis. We'll be sure that our final recommendation will benefit you the most by having a commercial recycling compactor available on-site whenever you need it.
The types of recycling compactors we offer include:
Self-Contained Compactor
Types of Waste: Wet waste (organic, medical, etc) and Dry waste (paper, plastic, etc)
Typical Environment: Large Residential, Business, and Commercial.
Size Capacity: Over 700 trash bags
Average Sizes: 30 to 35-yard compactors
Example Disposal Businesses: Grocery stores, large restaurants, malls, hospitals, large condominium and apartment complexes, and stadiums
Stationary Compactor
Types of Waste: Dry waste (paper, plastic, etc)
Typical Environment: Medium Residential, Business, and Commercial.
Size Capacity: Over 700 trash bags
Average Size: 2-yard compactor
Example Disposal Businesses: Warehouses, department stores, office buildings
Vertical Compactor
Types of Waste: Wet waste (organic, medical, etc) and Dry waste (paper, plastic, etc)
Typical Environment: Residential, Business, and Commercial that have space concerns.
Size Capacity: Over 100 trash bags
Average Sizes: 3 to 8-yard compactors
Example Disposal Businesses: Small restaurants, businesses in confined areas such as downtown
Heavy Duty Compactor
Types of Waste: Dry waste (boxes, pallets, drums)
Typical Environment: Industrial.
Size Capacity: Bulk items, typically crushed or destroyed
Average Sizes: Up to 7-yard compactors
Example Disposal Businesses: Manufacturers, Disposal scrappers

Why Should You Use a Recycling Compactor?
Besides the fact that using a recycling compactor makes your business more cost-efficient and environmentally friendly, you'll also be making your business and property safer and healthier for your employees or residents. Put simply, the inside of a compactor is better protected and compacted waste is less attractive to pests. Compaction also reduces odor.
Yes, a commercial recycling compactor's moving parts are more self-contained and less likely to cause injury. But a compactor's design and function also make it less prone to pest infestation, leaks, and other environmental damage. So, fewer pests, a lot less odor, improved cost-efficiency, and good for the environment are all the benefits you can expect with the compactor service you get with Fusion Waste & Recycling.
Expert Recycling Compactor Service & Support in Dallas, TX
Once you've selected the appropriate compactor for your needs, Fusion Waste & Recycling in Dallas will ensure your installation is prompt with first-time quality. You'll receive reliable pick-up tailored for your specific schedule and requirements. Lastly, we provide in-person training on the compactor for any personnel you believe would benefit from it prior to putting it into full use.
Your commercial recycling compactor service & support includes:
Professional installation
Training
Routine and reliable pick-up
Routine maintenance
Troubleshooting and repair
Some businesses and large multi-family properties require more waste disposal support than a front-load or roll-off dumpster provides. In addition to routine disposal and hauling, these types of clients also benefit greatly from the cost savings and efficiency an on-site waste compactor provides.
If you're a business in the Dallas area that believes compactor service is the right fit for your needs, we're the company that can provide the solution.
Please contact us if you'd like more information on compactor services. Call today!
Frequently Asked Questions (FAQs)
The waste you can put in a compactor includes cardboard, plastics, metals, and paper waste. We ensure proper disposal and recycling of all waste materials to promote environmental sustainability.
The location of where Dallas recycling goes depends on the type of recycling material. The City of Dallas operates a Materials Recovery Facility (MRF) where all the recyclable materials collected from residences and commercial locations get sorted, separated, and baled. These materials then get sold to various processing facilities where they can turn them into new products. For example, paper products may go to paper mills, plastic bottles to a plastic processing facility, and aluminum cans to a metal recycling center.
You can contact Fusion Waste and Recycling's customer service team to schedule a pickup for your recycling compactor in Dallas. The frequency of service for your recycling compactor will depend on your business's specific needs and volume of recyclables. Depending on your needs, our team will develop a customized schedule.
he cost for a compactor recycling service in Dallas can vary depending on the size and type of compactor needed and the amount of material to be recycled. Generally speaking, it can range from $150-600 per month, with additional costs for delivery and installation.
No, we don't recommend recycling confidential documents using a compactor in Dallas, as it may compromise the security of sensitive information. It is essential to use a certified shredding service that ensures the proper disposal and destruction of confidential documents. Fusion Waste and Recycling offer secure shredding services for such purposes.
Yes, there is a minimum amount of recyclable materials required for a compactor pickup in Dallas. Typically, the minimum amount is around 2-3 cubic yards, which may vary depending on the specific service provider.