Waste & Garbage Recycling Service in Fort Worth, TX
Many people tend to think of one thing when it comes to waste recycling services and that one thing usually tends to be the image of a blue bin or cart you throw either plastic bottles, cardboard, or aluminum cans in.
And that's okay, because if most people think that way about recycling, they've already got a good idea of what recycling bins and colors often look like and what products usually go in them.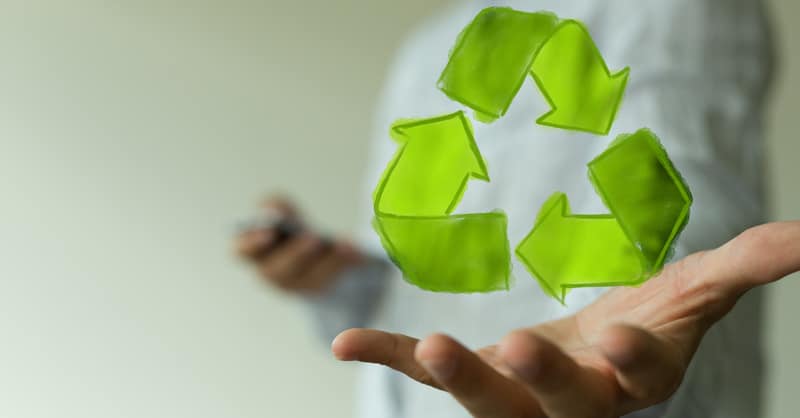 That also means that waste recycling as a service is also in their knowledge wheelhouse and isn't something unfamiliar or unknown. One of the largest battles waste recycling service companies like Fusion Waste & Recycling often fight is simply educating others on all the different ways they can recycle waste. So, if you're aware of blue bins and carts and the different things that can be recycled that also go in them, awesome.
However, if that's all you're aware of, or if you're interested in knowing more about the different recycling services Fusion Waste & Recycling offers in and throughout the Fort Worth area, as well as how we can help you establish your own recycling initiative, we've got a lot of information for you.
Why Recycling Waste Is Important
Before we jump into how we can protect the whole planet, let's start small and focus on improving our community and Fort Worth through waste recycling.
We're not going to look at the different ways we can recycle. First, let's look at why we should. So, let's take a quick look at why we as a waste management company are so passionate about recycling and why you should be, too. Then we'll dive into the different ways you can recycle and how Fusion Waste & Recycling can help.
This may sound weird at first, but it's a known fact that a lot of waste that ends up in landfills is waste that's wasted.
Huh?
To put it another way, the majority of the waste (upwards of 70%) that goes to landfills can be easily recyclable if the capability is in place to make it happen. The type of recyclable waste that often ends up in landfills includes the vast majority of products you think about when you think about recycling; this includes cardboard, plastics, metal, and glass.
But what's often overlooked are a lot of items that can be recycled but simply get thrown out in your everyday trash. Things like food waste and yard trimmings. If these items went through a recycling program instead of the landfill, they could be repurposed for more resourceful uses instead of decomposing in a landfill and being no use to anyone. Repurposed food waste can be used for cattle feed or compost for fertilizing. Repurposed yard trimmings can end up being reused as mulch.
Another way to think of it is if recyclable waste is recycled, it serves a new purpose. It doesn't end up as wasted waste.
Fusion Waste & Recycling is a local leader in helping our local communities understand how they can recycle their waste more efficiently while being more environmentally friendly and less wasteful in the long run. This helps divert waste from landfills, which will ultimately reduce greenhouse gasses, increase community self-sufficiency, and help the world.
See, by starting small, recycling can quickly be great for Fort Worth and the planet as a whole.
Our Waste & Garbage Recycling Services in Fort Worth
As a local leader in waste recycling services, we strive to not only provide the right service and containers for your recycling needs but also the appropriate education and guidance and how to better recycle, things to avoid, and how to start recycling programs for businesses, organizations, and communities. Through a combination of service and education, we ensure everyone understands why recycling is important as well as how they're doing their part to make it a reality.
Waste & garbage recycling services we provide for Fort Worth's needs include:
Cart, Dumpster, and Recycling Collection and Disposal Services
Document Shredding and Disposal Services
Recycling Sorting and Disposal Services (Glass, Cardboard, Plastic, and Metal)
Electronic Waste Collection and Disposal Services
Organic Waste (Food Waste) Services
Special Waste Recycling Services (Styrofoam, light bulb varieties, batteries, etc)
Get in Touch with Us for Your Waste Recycling Needs in Fort Worth, TX
Fusion Waste & Recycling is working hard to ensure unnecessary and recyclable waste is diverted as much as possible from local landfills and repurposed or disposed of in a way that reduces waste in those landfills, lessens negative impacts on the environment, improves community cooperation through recycling, and increases self-sufficiency in and around Fort Worth.
If you're interested in learning more about recycling and how Fusion Waste & Recycling does and continues to help Fort Worth, please contact us today. We're happy to answer any questions and give you the information you're looking for.
Frequently Asked Questions (FAQs)
The average cost of waste recycling services in Fort Worth is from $50 to $150, depending on the ton. However, the prices differ depending on the size of waste that needs to be recycled and the type of waste required to recycle.
The materials you can recycle from a waste recycling service are paper, cardboard, plastics, aluminum, tin cans, glass bottles, jars, and yard trimmings. However, some materials, such as plastic bags and styrofoam, cannot be recycled and require a separate disposal method. If you want to investigate the materials, you can recycle in-depth, go to the City of DFW's recycling program website or get in touch with Fusion Waste & Recycling.
Yes, you need to order separate recycling bins for particular waste bins so there is no confusion and an effective waste management process gets implemented. Different recycling bins create no mess, and we can dispose of trash with less contamination. So, order separate recycling bins for separate waste items from Fusion Waste & Recycling.
Fusion Waste & Recycling provides recycling scheduled pickups and removals every week in Fort Worth. Our team will ensure that the garbage gets recycled and disposed of in their respective areas without harming the environment. We also have commercial and residential recycling services per a customer's needs.
To sign up for a waste recycling service in Fort Worth, TX, visit the Fusion Waste & Recycling website or call us. Fill out a form on our website. And we will contact you shortly after. We will come up with a recycling plan as per your needs.